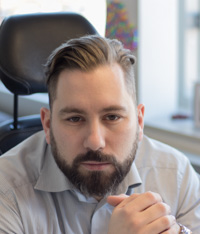 My name is Danni Efraim. I am a photographer based in Gothenburg on the west coast of Sweden. I have always been driven by restlessness deep in my soul, a restlessness that I have channeled into various creative outlets. In fact, being a photographer was initially not my career of choice. No, I've built a successful business as a programmer. After discovering photography, I realized it was the perfect way to apply both my technical and creative sides at once. In photography, my long experience and expertise in handling technology, computers and software can meet my drive to capture the world in new and exciting ways. I mainly photograph landscapes, nature images and cities, but I also gladly do portraits, kids parties, events, and similar.
What you're looking at is the result so far. Feel free to browse my portfolio. If you find anything you like, I offer a simple, royalty-free, all-use license at a very competitive price and you can purchase images directly on this site. You can also buy various kinds of prints directly on the site.
If you're looking for something in particular, something that I haven't shot yet, or perhaps print options that are not directly available on the website, feel free to contact me. I'm available to hire for most kinds of photography, and I collaborate with other photographers to be able to meet more advanced demands.
If you want to use one of my images for non-commercial purpose that can usually be arranged for free - please contact me.
Also please note that I'm not a documentary photographer and my photos are not documentary - they are fine art. All the photos are edited to some extent. Some of them have just had the colors and exposure adjusted, while other may be heavily edited, manipulated, or composited. I have taken all the photos myself and done all the work myself.